About Us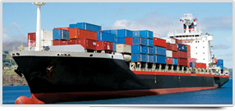 DP SHIP MANAGEMENT PVT. LTD. was established in 2012 by Capt. D.Tarai. The organisation is established to provide quality & trainined mariners around the world for best offshore Oil Majors, Shipping companies and Shore Based Marine Companies. It also aims to do consultancy for the international firms related to IT, Technical Trades and others.
While speed, dependability, reliability and efficiency are our priority, customer satisfaction is the ultimate goal. Our unique working methodology and untiring efforts enables us to shortlist appropriate candidates, who are at the helm of rendering the best of present generation services. We utilize our in-depth market knowledge and comprehensive research techniques to meet the unique requirements of every client.
The DP Ship management team is headed by Managing director , Capt.D. Tarai, who has worked as Master mariner and DPO in various offshore and shipping company. Capt. Pabitra Mohan Panigrahi is the director of the company and who has worked as Master mariner in various shipping company.
Presently, our business in providing Marine Crew to various Coastal and International Ships of varying tonnages , flags and different types. We are providing complete manning solutions to all the vessels in our manning and management. In order to provide this we are having a very healthy database of different Marine Officers & Ratings.